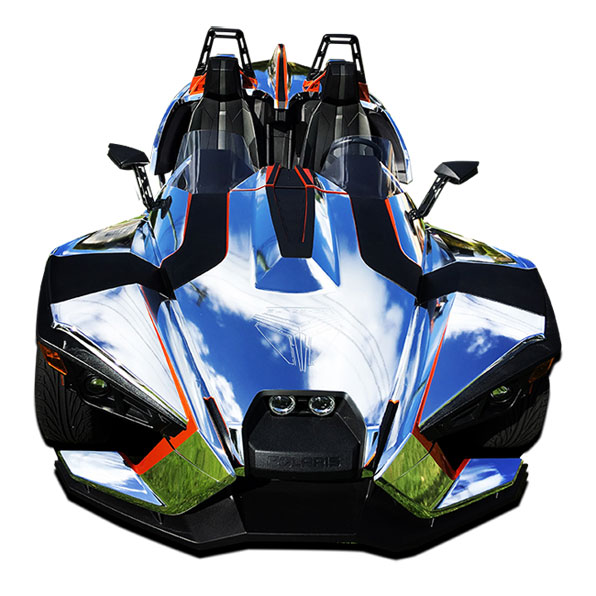 Custom Car Wraps have been gaining in popularity over the past few years. More and more people want to customize their vehicle by either changing the color, adding colors, or creating a custom design for the wrap. The possibilities are endless when it comes to Car Wraps, and only limited by your imagination. Whatever type of Wrap you want we can do. If you want some type of writing or graphics on the wrap you could put your name, your business name, graphics, logos, and much more.If you are looking to stand out on the road then getting your car wrapped would definitely help. If turning heads is your goal, getting your car wrapped would be the best choice.
Car Wraps can be applied to specific parts of your automobile such as the bumper, spoiler, roof, hood, or it can be a Full Wrap which covers everything. If you decide in a few years that you do not want the Wrap anymore you can just get it removed professionally and there will be no residue or damage done to the paint underneath. A Wrap is a cast vinyl material that is applied to the surface of you car. If done by a pro it will protect your paint and keep the value of the vehicle.
Some of the more popular options for Vehicle Wraps are Matte Black, Carbon Fiber, & Matte White. Most of the time Car Wraps are used to enhance the physical appearance of the car, but their are other reason for doing it. Wraps are also a very popular and effective marketing tool. Please check out our Commercial Wraps if you are a business.
Full Car Wraps come in matte black, matte white, carbon fiber, satin, or any custom color of your choice. Mimessi Auto Design can completely personalize your ride for you. Custom Car Wraps are a great way to add some unique style to your car without the high price of getting a new paint job. Check out some of the work we have done in our Gallery.
Benefits Of Getting A Car Wrap:
Protects your OEM (original equipment mfr) paint
Dramatically enhances the cars appearance
Stand out from the crowd
Promote yourself or business
Protecting the paint helps to preserve the value of the car
Less expensive then a new paint job
Get paid to promote another business
If you are interested in our Custom Car Wraps please give us a call @ 561 372-9921 or fill out the contact form.